In Her Power — Lakeview Ent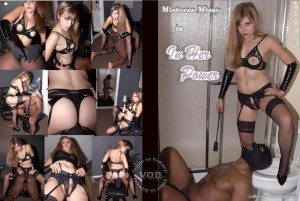 Mistress Missy spends 55 minutes with dusky slave twitch. She fancies having him clean her toilet first. After giving strict instructions, she reclines with a vibrator to masturbate. He must keep eyes glued on his job. She offers to piss down his throat and gives good POV threat. He is moved for foot worship, choking and humiliation before finally having his ass stuffed full.
Mistress Missy stood in front of twitch in black nylon and garter and lacey cut out bra showing perky nipples. The blonde taunted him and ordered him to worship her stocking covered legs. Off to the bath to show him her toilet in need of his attention. She showed him up close and then moved to get herself off to her vibrator. A toilet inspection. A scolding and a threat to pee.
Slave twitch as a rock hard cock as he lays sprawled back on the toilet seat with Mistress Missy's stunning 21 year old pussy encased in black garters over his head. She looks down and teases him a bit more then orders him out to the black chair to lick the bottom of her high heel pumps clean. Dangling shoes, humiliation and perfect size 6.5 feet for worship.
Mistress Missy in stocking feet offers up some foot domination and trample on slave twitch. She takes a turn at some breath plan and manages to step on his cock as often as possible. Crop in hand nobody is more beautiful than this 21 year old professional fetish model. Perfect size 6.5 feet step and jump on the big black stud.
The black buck is positioned on his back on the chair and gets a ride from Mistress Missy. Her perfect pussy hovers over his face and she removes the nylons and smashes the wet black crotch into his face. She plants her ass on his face and gets herself off over the slave with a vibrator.
Now he is in for it as Mistress Missy finishes orgasming over his face. He gets to suck the cream from Her black panties before She turns him over spanks his black ass and then gives him a prostate massage before jamming a blow up dildo in and puffing it up inside his guts.